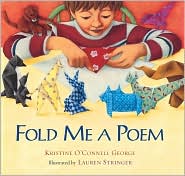 1. Bibliography:
George, Kristine O' Connell. Ill. by Lauren Stringer. 2005. Fold Me a Poem. New York: Harcourt Inc. ISBN: 0152025014
2. Summary:
In this collection of short (some are haiku but not all) poems, Kristine George uses origami foldings as inspiration for poems. A young boy creates origami animals throughout the day. The boy's vivid imaginations takes readers to a place where pieces of paper can become anything a creative mind wishes them to be.
3. Analysis:
The idea of the origami is catchy. I read the book to two five-year-olds. They immediately started talking about how they made origami at school and wanted me to show them how to make all the different animals presented in the story.
The book follows the creator of the origami throughout his day, starting with the rooster who starts the day off and ending with a mystery noise ("Is someone dancing?") while the boy goes to sleep with an origami animal in his hand. Young readers will recognize the daily habits of waking up, taking a bath, and going to sleep as the same things they do. With that recognition, they will also see how creative the boy is with even the most mundane experiences.
My favorite poem is "Tub," but I could not tell you specifically why. I think it is because the lines "I hope these boats will float. The shore is lined with passengers" grab me because the child is so involved with his pretend world that it follows him everywhere just like a good idea or dream that I have will follow me through the day. The first time I read through the book, I thought it to be boring except for this poem. The second and third read caused me to like the book more as I saw past its simplicity to it's creative meaning.
The illustrations are bright and eye-catching. Kids are drawn to bright colors, and these will grab their attention. The background of each page is pretty bland or monotone, which allows the origami creations to really pop and to stand out as the true part of the book. The first time I read it, I barely read the words because I was intrigued by the colorful designs. The pictures also express the idea that people must be involved in creativity and ideas by showing the boy manipulate the "boring" paper into something beautiful and unique.
4. Reviews:
Publishers Weekly:"This unusual poetry volume is a dazzling celebration of imagination." Copyright 2005 Reed Business Information.
Kirkus Review:"There are no step diagrams, so this engrossing collaboration is more a motivator than a teaching resource-but Stringer supplies a list of classic titles for beginners at the end, and (librarians: be warned!) the square, brightly colored end papers make tempting, oh so tempting starter sheets." (Picture book/poetry. 6-9)
5. Connections:
This book would be a great introduction to poetry because the short poems are catchy and easy to imitate. They would not be overwhelming to students. In this module, we've learned that many people are intimidated or bored with poetry, so this is a nonthreatening way to start learning about poems.
It could also be used in an art class as an introduction to origami.