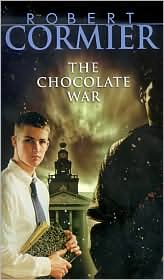 1. Bibliography:
Cormier
, Robert. 1974.
The Chocolate War
. New York: Dell Laurel-Leaf. ISBN: 0440944597
2. Summary:
Jerry is a high school freshman at Trinity High, a strict private school. While he deals with the death of his mother and a uninvolved father, Jerry finds his place by saying he will not sell the chocolate for the school's fundraiser. His refusal creates problems for Jerry as Brother Leon is depending on the students to sell the chocolate. Brother Leon is so desperate to sell the chocolate that he works with the leader of the Vigils, the elite group on campus, to coerce Jerry into selling the chocolate. Jerry remains firm in his resistance, and he must fight Emile
Janza
in his final stand against the Vigils.
3. Analysis:
Robert
Cormier
writes a dark tale about the conformity expected in schools and the bullying that often accompanies any refusal to follow a group. His realistic view of life is universal. While not every student has been asked to sell chocolate, many students wish they could stand up against the rules and
hierarchy
of a school. These readers will want to root for Jerry, but because the reader is not given much insight into Jerry's thoughts and feelings, it is hard to identify with him or completely support him.
A couple of areas could be addressed further to make readers relate to Jerry more. Jerry's mother is dead, yet there is little written about Jerry dealing with those emotions or feelings. Jerry also has random sexual feelings which are not explored throughout the book. Jerry wonders why he feels guilty about buying
Playboy
in one scene and then feels aroused while tackling another guy at football practice. These
scenes
fall flat as they are not developed more. They almost seemed an afterthought instead of a part of the plot. If Jerry's feelings and emotions had been shared with the audience more, perhaps readers would care if Jerry made a stand or not!
While the character of Jerry falls flat, the situation is realistic. Every school or organization has the elite group that runs the social aspect of the school. At the beginning of Jerry's refusal, students believed Jerry was completing an assignment given out by the Vigils. As his stand continues, it becomes obvious that Jerry is refusing for his own reasons, defying Archie and the Vigils. His refusal makes him an enemy of both the Vigils who like to control people instead of allowing people to think and to act for themselves and Brother Leon, who must have the students sell the chocolate. Brother Leon is so desperate that he resorts to teaming up with Vigils, suggesting that authority figures are sometimes corrupt and use students for their own needs. This idea is further proven when Brother Leon allows Archie to orchestrate a final showdown between Emile
Janza
, the school thug, and Jerry. The idea that an adult would allow students to fight is disturbing since school officials should protect students.
Jerry's stand ends when he loses the fight, leaving the readers to reflect on how good people do not always win in life. Jerry took a stand for what he believes is right and yet still did not win. While this outcome does not seem fair, it is one that often happens in real life. It is a lesson young adults should learn early on. In addition to Jerry's loss, Archie is protected by a crooked adult, and Archie suffers no consequences for his actions, which is another hard lesson.
So while readers may find it hard to identify with Jerry, everyone understands the struggle against evil and sometimes not winning.
4. Reviews:
"Masterfully structured and rich in theme; the action is well crafted, well timed, suspenseful."—The New York Times Book Review
"The characterizations of all the boys are superb."—School Library Journal
"Compellingly immediate. . . . Readers will respect the uncompromising ending."—
Kirkus
Reviews
An ALA Best Books for Young Adults
A School Library Journal Best Books of the Year
A
Kirkus
Reviews Choice
A New York Times Outstanding Books of the Year
http://www.amazon.com/gp/product/product-description/0375829873/ref=dp_proddesc_0?ie=UTF8&n=283155&s=books
(Accessed November 16, 2008)