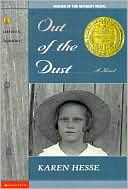 1. Bibliography:
Hesse, Karen. 1999. Out of the Dust. New York: Scholastic Inc. ISBN: 0590371258

2. Summary:
Billie Jo is a young woman living in 1934, struggling with her family to survive on a farm in a dust field land. She enjoys playing the piano and is looking forward to the birth of her new sibling. However, A horrible accident causes her mother's death, and Billie Jo must deal with her father's distant attitude, her guilt over her part of the accident, her loss of ability to play the piano with ease, and life in general.

3. Analysis:
Hesse tells a heart wrenching tale of a young girl's struggle in life. The set up of the poems clearly reflects the mood of the story. In the entry Almost Rain, the sentences are short and convey the hopeless feeling of the town, and Billie Jo, of the lack of rain.
"In town,
the sidewalksgot damp.
That was all."
Because the drought and dust was the way of life, the characters had become used to disappointing hopes of rain.
Hesse's use of short, terse lines conveys the feeling that disappointment was the norm. They also show the hopelessness of the people to do anything to prevent nature's cruel destruction of their hard work on the crops.Hesse's writing has an authenticity to it that draws reader into the story. Lines like,"We shake out our napkins, spread them on our laps, and flip over our glasses and plates, exposing neat circles, round comments on what life would be like without dust" clearly describe what life was like during a dust storm or living in a dusty place without the type of building we have now.
Hesse's description of the day Billie Jo's mother got burned and then dies grabs the readers heart even though it is written simply as "Ma got burned bad" and "Ma died that day giving birth to my brother." I asked my students who had read the book to tell me what they thought, and one girl said she couldn't put it into words but that the style of writing felt real. Although life in this era was difficult, Hesse ends the book with the protagonist once again playing the piano, full of hope for the future.

4. Reviews:
Publishers Weekly:In a starred review of the 1998 Newbery Medal winner, set during the Depression, PW said, "This intimate novel, written in stanza form, poetically conveys the heat, dust and wind of Oklahoma. With each meticulously arranged entry Hesse paints a vivid picture of her heroine's emotions." Ages 11-13.
School Library Journal: Hesse's ever-growing skill as a writer willing to take chances with her form shines through superbly in her ability to take historical facts and weave them into the fictional story of a character young people will readily embrace.Carrie Schadle, New York Public Library